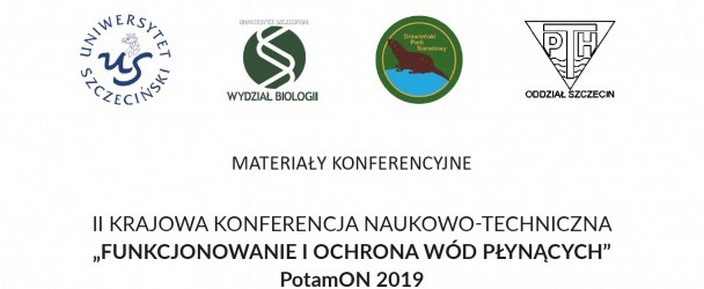 On 25th-27th September 2019 the representatives of the Regional Directorate for Environmental Protection in Szczecin, including the members of the LIFEDrawaPL project team, once again had the pleasure of taking part in the National Scientific and Technical Conference "Functioning and protection of flowing waters – PotamON 2019" organized by University of Szczecin, the Faculty of Biology, Drawieński National Park, the section of Polish Hydrobiological Society in Szczecin.
This year's three-day conference concerned the issues of "Biological communities of flowing waters in the context of hydrological changes".
The members of the LIFEDrawaPL Team dr hab. Mariola Wróbel – scientific consultant and Artur Furdyna – field coordinator presented the results of activities related to the reintroduction of Groenlandia densa carried out since 2016 as part of the LIFE13NAT/PL/000009 project and the importance of renaturalisation measures planned in the project for the protection of the 3260 habitat.
The results of the project activities were also presented by Mr. Józef Jeleński during his speech – a representative of the Project Steering Group, who substantively supports the Team in the field of hydro engineering and renaturalisation works from the beginning of the project.
The conference was a great opportunity to present the progress of the project and to share with the participants the experience of reintroduction of the plant extinct in Poland; this plant is closely related to the good ecological status of spring streams. As part of the speeches, there were several topics closely related to the issues included in the project, especially the topic of the habitat of water-crowfoots rivers, including the results of research on plant genetics of Ranunculion sp. The team members made contact with dr hab. Joanna Zalewska-Gałosz, UJ prof. for a common vision of 3260 habitats in Western Pomerania.
Below, we present materials from the Conference, encouraging especially to read the issues devoted to the LIFEDrawaPL project, including:
"Reintroduction of Groenlandia densa and transformation of 3260 habitat Lowland and foothill rivers with Ranunculion fluitantis communities on the example of preliminary results of the LIFE13 NAT/PL/000009 project" (dr hab. Mariola Wróbel, Artur Furdyna);
"Restoration of gravelly riverbeds by restoring riffle-pool sequences, their environmental role and application" (Józef Jeleński, Paweł Mikuś)
Funkcjonowanie i ochrona wód płynących 2019 monografia
Potamon 2019 materialy konferencyjne