There is a team of people behind every project, from a concept to its completion and settlement, and these people are centred around by certain factors. In our case, one of the main factors was the river Drawa in Western Pomerania, whose name causes a favourable reaction of many enthusiasts of activities in the bosom of nature – starting with water sports enthusiasts, through anglers, to end with wildness peek lovers, both with their own eyes and cameras. Many naturalists took their steps towards this river, admiring the richness and diversity of nature in the Drawa valley as well as many lakes through which it flows. It had a similar impact on the majority of LIFE13 NAT/PL/000009 project team. The project's subject matter is particularly close to its authors, who in the sweat of their brow began the adventure with the Drawa by writing and submitting an application. The current team consists of people equally "infected" with liking for the beauty of the river basin and the region which are within the scope of the project.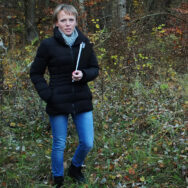 Young but experienced team is currently being run by Beata Gąsiorowska.
An economist by education, the Agricultural University in Szczecin graduate. Connected with RDEP in Szczecin since 2010. For 10 years she has been continuously improving her skills to obtain and manage the EU funds for investment and educational activities and to coordinate projects' realisation. Since December 2015 –the project LIFE13 NAT/PL/000009 coordinator cooperating with pleasure with the team of excellent naturalists. She has been particularly interested in investment issues in the project, concerning the removal of barriers to organisms migrating in rivers, eagerly waiting for their final results.
Privately, a lover of Polish landscapes. An enthusiast of walks and mushrooms, berries, fish excursions… In her spare time she is a handyman fond of challenges and a gardener who cannot sit still.
As for financial issues support is given by Aneta Radecka, who is employed as an expert for settlement and accounting operations of the LIFE13 NAT/PL/000009 Project.
Degree in economics together with experience in several companies assured her, similarly to most of the team, the choice in the competition for her current position, where she has been working since November 2014. She plays a key role in ensuring proper circulation of documents related to the project, their verification in formal and accounting respect, which guarantees proper control over the correctness of the project as for its finance.
She takes a rest from professional duties during active exploring of closer and farther surroundings, from bike trips in the woods close to her house to multi-day tourist escapades abroad. Her second home are the mountains, where she finds fulfilment mainly in the summer. She is also a keen mushroom picker. During the week she spends the afternoons in her garden, where she recuperates while listening to the sounds of birds.
W realizacji zadań od strony merIn the team there are also naturalists, who are also responsible for the substantive side of the project: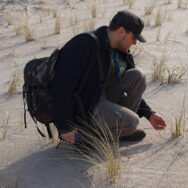 Dr Piotr Waloch
The Department of Nature Conservation and Natura 2000 sites RDEP in Szczecin employee. A naturalist by education who specializes in botany and planning of the environment. A graduate of Secondary Technical School of Forestry in Starościn, the Agricultural University in Szczecin and the West Pomeranian University of Technology in Szczecin. Connected with RDEP in Szczecin since 2012. Since November 2014 the project's employee, participating, among others, in investments' coordination, implementation of the groenlandia densa reintroduction task and environmental education. An enthusiast of aquatic ecosystems, peat bogs, forests, mountains and of course plants, including mosses. Tireless in wild expeditions and discovering the treasures of our nature. Privately, a husband and father of four children and a keen football fan.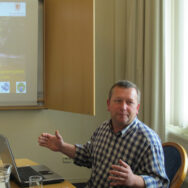 Realizacją zadań projektu w terenie zajmuje się AArtur Furdyna has been dealing with implementing the project's tasks in the field – the project's field coordinator. An ichthyologist, sea fishing engineer, for many years professionally associated with the ecology of the region's waters who deals with implementing corrective steps of river ecosystems. A participant of several river basins restoration projects, both scientific, within the West Pomeranian University of Technology, as well as those carried out by associations dealing with aquatic issues throughout the country and abroad. The co-author of publications popularizing modern knowledge of flowing waters functional ecology and the Polish versions of a course book published by FAO "Fish ladders – design, dimensions and monitoring". Involved in the aquatic ecosystems protection also "after hours" as the president of the Society of Friends of the Rivers Ina and Gowienica, and also a member of several others ecological and fishing associations. In his spare time a lover of nature photography and fishing.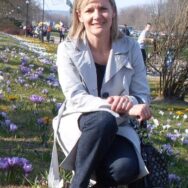 From August 2017 the team is assisted by dr hab. Mariola Wróbel whose role is to be a scientific consultant – she is a scientific and didactic employee of the Department of Botany and Nature Protection at the Faculty of Environmental Management and Agriculture, West Pomeranian University of Technology in Szczecin. Botanist, phytosociologist, specialist in the field of environmental protection and agroecology. Her scientific interests focus on protecting biological diversity in the agricultural landscape but also on the active protection of endangered natural habitats and species in protected areas and exposed to various forms of anthropogenic pressure or degraded. She is the author, co-author of scientific publications and methodological papers on protection of habitats and plant species. She is also responsible for monitoring and environmental supervision conducted during investments in protected areas of Western Pomerania. Personally she loves travels and the opportunity to explore the nature of other regions. She can also pursue her amateur passion for nature photography and she enjoys active leisure events.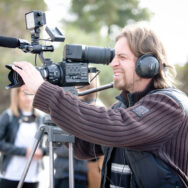 mgr inż. Wojciech Wójcik, a graduate of the Animal Husbandry Faculty, the Agricultural University in Szczecin. A horse riding instructor and fishing lover. He is the author of the website and fanpage on Facebook, which provide information about the project's tasks, the people implementing them and the progress made. Despite his young age Wojciech already has many film achievements and broad experience, especially in information service of various events – thanks to that we can offer a wide range of films which outline some events, as well as the natural wealth of the project's area.
The whole team's work is supervised by the Regional Director for Environmental Protection, Aleksandra Stodulna, with technical support of the Regional Conservator of Nature, Marcin Siedlecki.
During the tasks' realisation strong support is provided by the Steering Group, whose members represent many disciplines and administration and economy sectors interested objectively or subjectively in the scope and area of the project. Below the composition of the Steering Group:
Wincenty Piworun – Deputy Regional Director for Environmental Protection in Gorzów Wielkopolski Regional Directorate for Environmental Protection in Gorzów Wielkopolski
Krystian Piechowiak – Head of Planning Department in Water Management, the Regional Water Management Board in Poznań, Water Management Sector
Maciej Humiczewski – West Pomeranian Board of Land Reclamation and Water Facilities in Szczecin, Deputy Director for Investment
Paweł Bilski – Director of the Drawieński National Park
Jacek Sobczak – Provincial Headquarters of the State Fishing Guard in Szczecin, station in Szczecinek
Sylwia Borowiak-Najda – West Pomeranian Marshal Office Department of Environmental Protection
Krzysztof Zacharzewski – President of the Association of Local Action Group "Partnership of Drawa"
Monika Gańcza – PZW Warsaw
Grzegorz Kujawa – District Board of Polish Angling Association in Poznań
Dr inż. Janusz Golski – University of Life Sciences in Poznań Department of Inland Fishing and Aquaculture Institute of Zoology
Profesor US dr hab. inż. Robert Czerniawski – University of Szczecin Faculty of Biology Department of General Zoology
dr hab. prof. nadzw. Piotr Dębowski – Inland Fishing Institute in Olsztyn Department of Migratory Fish in Rutki
inż. Józef Jeleński – Project's Coordinator SPCP KIK/37 Spawning Grounds of Upper Raba, Expert
Krzysztof Gruszecki – Lawyer