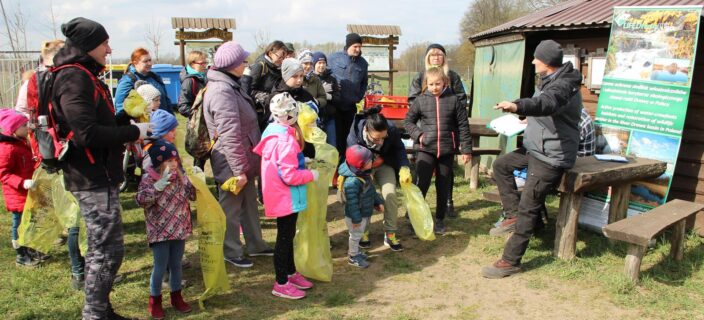 This year on 13th April the Regional Directorate for Environmental Protection in Szczecin once again supported the social campaign for the River Drawa cleaning organized as part of the "Earth Day" by Jędrkowe Zakole company.
The campaign covered the most frequently visited part of the River Drawa in its upper section. The cleaning was also carried out on hiking trails adjacent to the campsite Jędrkowa Przystań. All participants were secured with protective gloves and bags for waste collecting.
In this year's campaign, about 5m³ of garbage located along the trails was collected. Fortunately, the amount of garbage was almost half less than last year. The highest degree of pollution was found at the very beginning of the route just behind the town of Dalewo and on the urban section of Drawsko Pom. Near the second bridge, a group on kayaks pulled out of the river and secured near the first bridge behind the town of Dalewo a projectile with 80mm diameter probably from the period of World War II. This fact was reported at 112 number, the missile was taken over by police officers from the District Police Department in Drawsko Pom. until the arrival of the Explosive Ordnance Disposal.
70 people took part in this year's cleaning of the Drawa, including employees of the LIFEDrawaPL team. Every year, the number of the youngest volunteers with their parents is increasing, so it is worth continuing to actively teach children how to take care of nature. After the action ended with a meal eaten together by the fire, numerous educational activities were carried out:
an educational point was prepared for recognizing nature and life in the forest combined with competitions and prizes,
a series of ecological competitions for youth from various age groups with prizes was conducted,
a contest with prizes was held for anglers from knowledge of native freshwater fish species.
For participating in the campaign, all participants received small prizes prepared by the organizers.