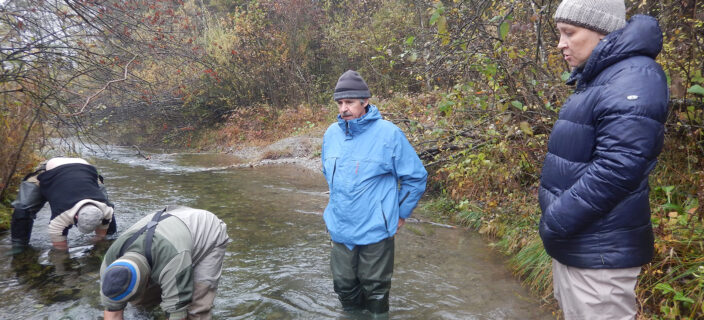 Obtaining Groenlandia densa samples from Austria and Germany within C.1 action"Preparation of material and reintroduction of Groenlandia densa".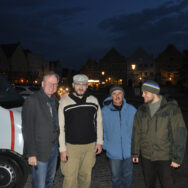 On 24-28 October and 2-3 November 2016 there were 2 field trips to collect Groenlandia densa specimens from 5 selected stations in Austria and Germany. These trips were attended by the employees of the LIFEDrawaPL team and RDEP in Szczecin: Sylwia Jurzyk-Nordlöw, Piotr Waloch, Artur Furdyna, Krzysztof Adamczak. The process of obtaining and transporting the seedlings was substantively supervised by dr Ryszard Piotrowicz (an employee of Adam Mickiewicz University in Poznań) and some local experts. Altogether 1050 specimens were collected from the following positions:
Aham (Kaltenau) near the town of Obernberg am Inn, Austria – 200 specimens from a trout pond and a gravel-bed stream,
Hard near the city of Bregenz, Austria – 100 specimens from a small stream Rotachbach,
A stream Nafla in Rankweil, Austria – 300 specimens,
Oberau near Garmisch-Partenkirchen, Germany – 50 specimens from a limestone stream Lauterbach,
Hamme near Osterholz-Scharmbeck, Germany – 400 specimens from the water-heads trenches in the river Hamme basin.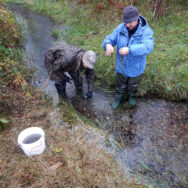 The specimens were collected after obtaining relevant administrative decisions and permits in accordance with methodology agreed with the Botanical Garden of Adam Mickiewicz University in Poznań. The seedlings were transported in reinforced containers, thermoinsulating, polystyrene with a capacity of 32 l or 13 l, almost fully filled with water. During longer stops the containers were opened to allow gas exchange. Altogether 1000 specimens were submitted to multiplication according to the agreement with the Botanical Garden of Adam Mickiewicz University in Poznań to the following institutions: BG Adam Mickiewicz University in Poznań (600), Dendrologic Garden in Przelewice (100), Geoecological Station UAM in Storkowo(300). In addition, 50 seedlings were planted in a specially selected natural position in the area of the LIFEDrawaPL project in order to multiply them and for pilot reintroduction. Most of the plants, after a prior consultation with the BG UAM employees, were put in specially cut cubes of mineral wool with dimensions of 40x40x40mm and placed at the bottom of a watercourse and fixed with a bamboo pin. Several specimens were attached to the bottom only with pins, gravel, stones and pieces of wood.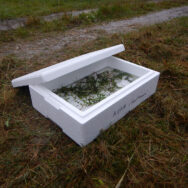 The trips were fully successful without unexpected "adventures" and failures. The seedlings obtaining would not have taken place without the great help and support of our foreign colleagues: prof. Michael Hohla, dr Dietmar Jäger, Christian Jorda, dr Hans-Gerhard Kulp. The words of gratitude are also addressed to the Austrian and German Offices (Linz, Bregenz, Feldkirch, Garmisch-Partenkirchen, Osterholz-Scharmbeck), which effectively issued appropriate permits. Thank you for your support and understanding!