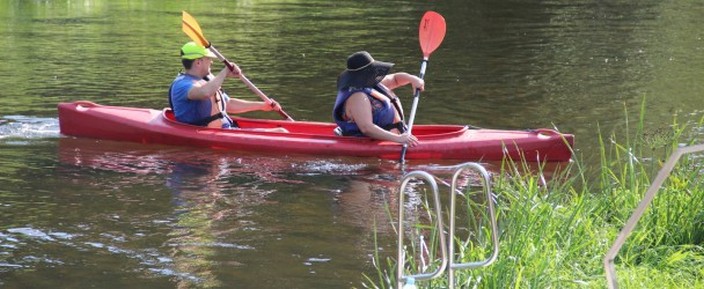 The Regional Director of Environmental Protection in Szczecin invites to participate in an educational kayaking trip organized as part of the LIFE13 NAT/PL/000009 LIFEDrawaPL project "Active protection of watercrowfoots habitats and restoration of wildlife corridor in the River Drawa basin in Poland", co-financed by the European Union under the LIFE+ financial instrument and by the National Fund for Environmental Protection and Water Management in Warsaw.
EDUCATIONAL KAYAKING TRIP PROGRAMME
28th August 2020 – 10.00 a.m
NATURA 2000 AREA
Uroczyska Puszczy DrawsNature reserve of the Drawski Forest PLH320046 and the Forests upon the Drawa PLB320016
Time: 10.00 a.m.
Meeting of participants. Access to the meeting point on your own.
Meeting ponit https://goo.gl/maps/aqChECD1MzVQMQ2P9
Transfer to Nowa Korytnica campsite around 11.00
Beginning of the trip down the Korytnica River. Kayaking through Sówka and Jaźwiny fish passes (i.e. carried out under the LIFEDrawaPL project). Estimated time approx. 5 hours. The route is not difficult. It is the most beautiful section of the Korytnica River. Along the route, information about the river and discussions. The end – Jaźwiny.
Return to the meeting point around 16.30
Contest with hydro-riddles. Adjudication of the nature competition and awarding of prizes.
A shared meal by the fire (at the meeting point). The end of the meeting.
* we reserve the right to end the meeting earlier (or later), depending on the time of arrival of individual participants
Educational kayaking trips have been organized by the Regional Directorate for Environmental Protection in Szczecin since 2015 as part of the LIFEDrawaPL project, as an action of "Active education". The kayaking trips, thanks to direct contact with Nature, under the supervision of experts, allow for effective transfer of information about the essence of the functioning of Natura 2000 area in relation to its local conditions.
(Detailed organizational information available on the project's website http://drawalifeplus.rdos.szczecin.pl)
Organizational information about the kayaking trip can be obtained by calling 733-600-838, 733-606-637 and 91 43 05 222, 91 43 05 214
Applications should be sent by e-mail to the following address: life.drawa.szczecin@rdos.gov.pl until 24th August 2020
THE NUMBER OF PLACES IS LIMITED – THE SEQUENCE OF APPLICATIONS DECIDES
See you on the trail!
Pliki do pobrania: